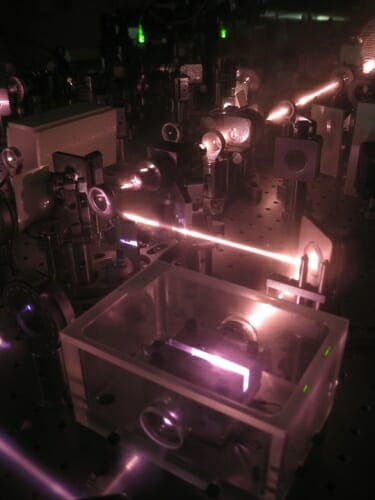 A group of University of Wisconsin­–Madison physicists has identified conditions under which relatively distant atoms communicate with each other in ways that had previously only been seen in atoms closer together — a development that could have applications to quantum computing.
The physicists' findings, published Oct. 14 in the journal Physical Review A, open up new prospects for generating entangled atoms, the term given to atoms that share information at large distances, which are important for quantum communications and the development of quantum computers.
"Building a quantum computer is very tough, so one approach is that you build smaller modules that can talk to each other," says Deniz Yavuz, a UW–Madison physics professor and senior author of the study. "This effect we're seeing could be used to increase the communication between these modules."
The scenario at hand depends on the interplay between light and the electrons that orbit atoms. An electron that has been hit with a photon of light can be excited to a higher energy state. But electrons loathe excess energy, so they quickly shed it by emitting a photon in a process known as decay. The photons atoms release have less energy than the ones that boosted the electron up — the same phenomenon that causes some chemicals to fluoresce, or some jellyfish to have a green-glowing ring.
"Now, the problem gets very interesting if you have more than one atom," says Yavuz. "The presence of other atoms modifies the decay of each atom; they talk to each other."